inteliPod recently featured in UK Construction News, where they highlighted the unique Covid-19 secure features of inteliPod and how it is benefiting companies, read the full article below.
IPM Group have a long-established reputation of being at the forefront of innovation in security. Their tag line of 'Evolving as Standard' sums up their ambition and drive to be the very best in their field.
When the UK wide lockdown hit back in March, most other companies in their industry were taking stock of the situation and operating day-by-day. Whereas IPM Group looked to the future. Working relentlessly on an idea that was first conceived many months previously but now was very much at the forefront of everyone's mind.
With the intense focus and dedication from the team at IPM, this idea soon became a reality and inteliPod® was born.
The Future of Access Control – smarter, safer, faster
inteliPod® is the pinnacle of Covid-19 secure site access and security. Due to the overwhelming risk factors of standard biometric turnstiles, inteliPod was conceived to deal with the very real threat we now face, and ultimately keeping construction sites open and Covid-19 secure.
inteliPod® utilises the latest technology to enable fast, safe and reliable access onto construction sites. inteliPod® is 100% touchless with inbuilt facial recognition and body temperature screening, access to site will only be granted to someone who is authorised and has a safe body temperature. This acts as a first line of defence for the entire workforce, alleviating the need for outdated biometric turnstiles that rely on unsafe finger printing technology.
Furthermore, inteliPod® comes ready to tackle the real threat of virus cross-contamination. As standard, inteliPod® comes equipped with hand-sanitising stations and automatic anti-virus misting technology. This initiates a disinfecting mist at set predetermined intervals or when a person reads a high body temperature, to ensure the unit stays sanitised all day. Gone are the days of manually cleaning access control units.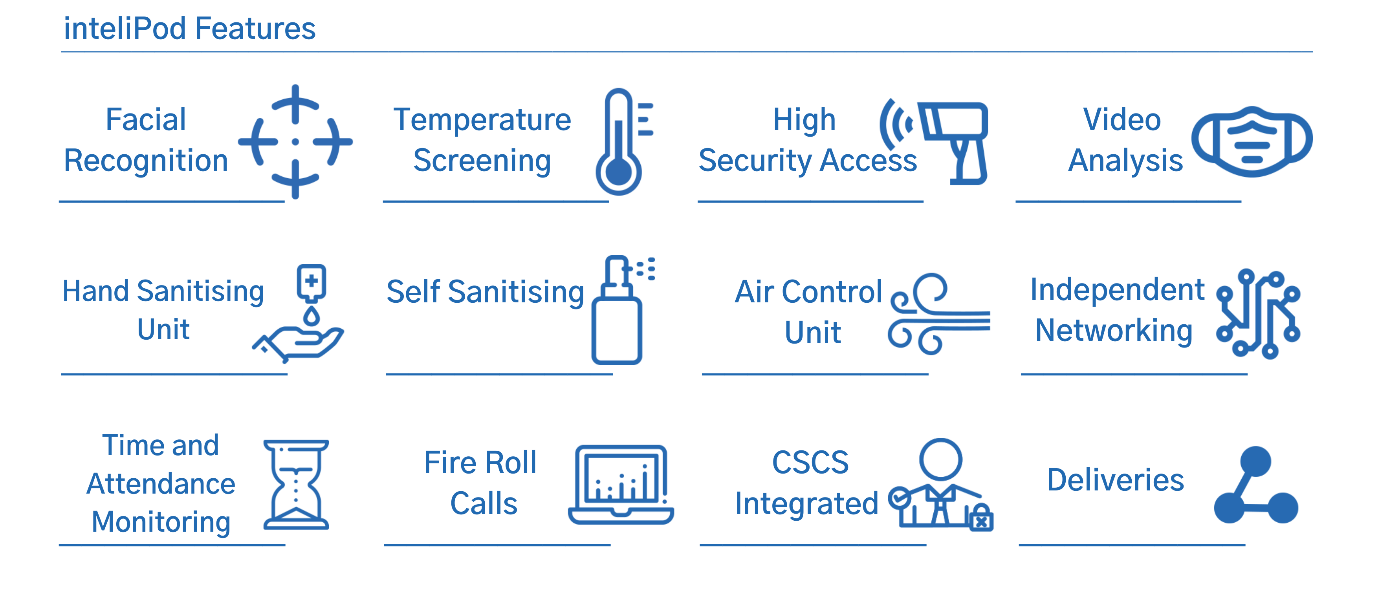 inteliPod® is also fast. Even for the largest of construction sites, a person can be processed and on site in less than 6 seconds. Or to put that into context, 600 people can be processed per hour through one single unit. Multiple this by double units and you can really see, even with all the added benefits, how inteliPod® is rapid compared to standard turnstiles.
In addition to its many features already mentioned, inteliPod® comes stacked with a wealth of inbuilt features, from its own operating system, inteliPro®-CS. Including video analytics, independent networking, advanced time & attendance monitoring, fire roll calls, CSCS integrated, health & safety reporting and many more. See below how inteliPod differs from standard biometric turnstiles.
In addition to the inteliPod®, IPM Group offer a Virtual Management Solution (VMS) option to forward thinking organisations ensuring their level of protection is maximised.
Thanks to the advanced technology capabilities at IPM Group, their state-of-the-art VMS facility allows them to manage physical surveillance tasks remotely from their Head Office based Control Centre, reducing the need and cost for onsite security personnel.
The inteliPod® VMS offers a remote site solution that is a fully automated first point of contact for site employees, visitors and deliveries. The VMS system will communicate all site safety critical events detected such as high temperature alerts, panic alarm activations, tailgating and low sanitising fluid levels straight through to IPM's dedicated VMS team in their control centre for the necessary action to be taken.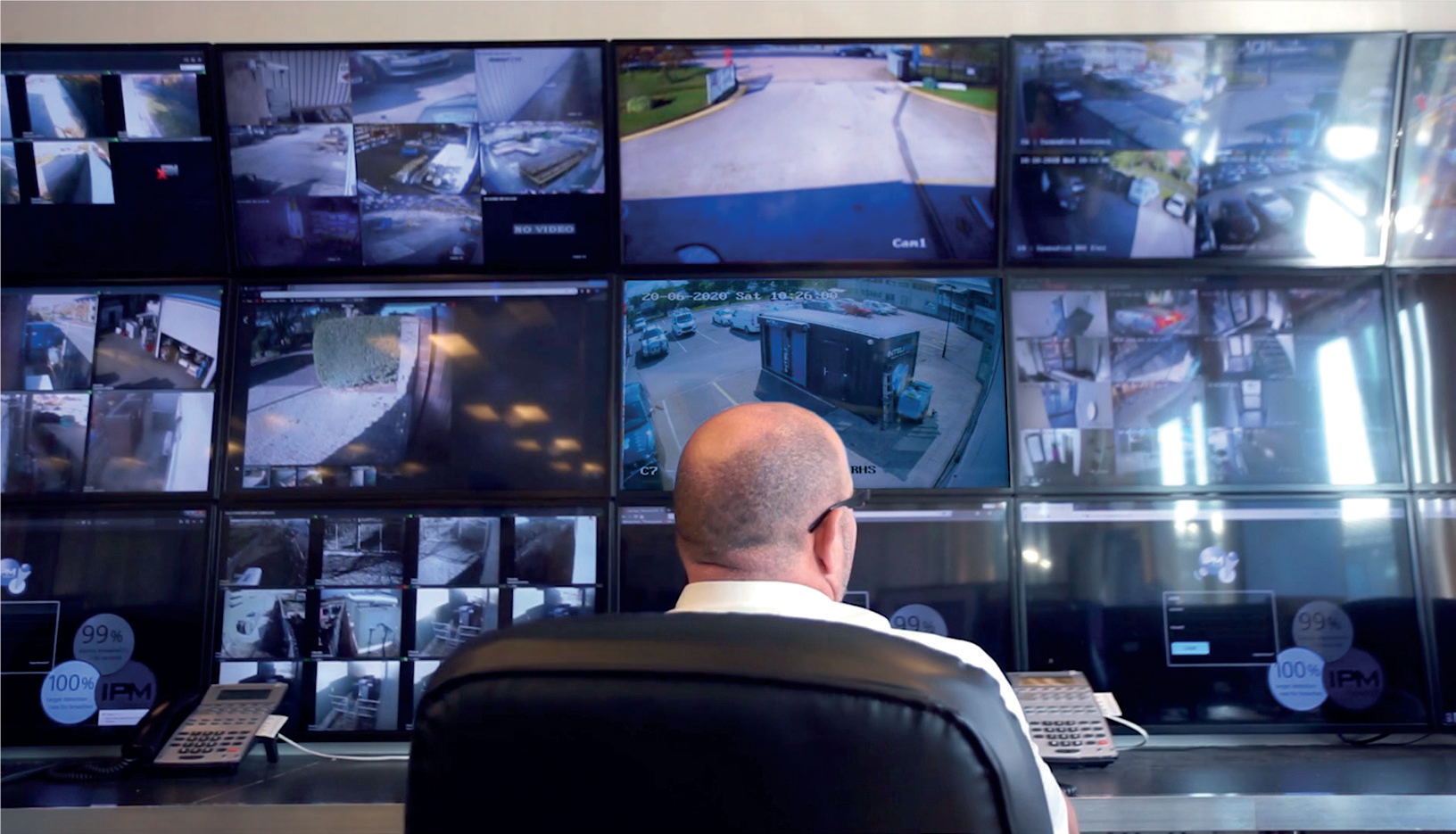 In a recent customer case study the customer saved £30,050 on 100% Pre-enrolments including Off Site Inductions and a further £8,450 on a front house security guard when using VMS alongside an inteliPod®.  Total savings of £38,500.
IPM Group combine the innovation and technology of inteliPod® and VMS together with InteliSec their temporary & permanent Security Systems.  InteliSec provides their customers with a complete Security Solution including CCTV, Manned Guarding, Mobile Patrols, Key Holding & Monitoring Services via their own in house certified monitoring station.
IPM Group provide a full security solution for construction projects including access control which is Covid-19 Secure protecting your staff, customers, visitors and suppliers, whilst monitoring site to increase security, safety and compliance.
With key contracts already in place by some of the leading construction companies around the UK, inteliPod® is soon to be on construction sites across the country.
This article was taken from the UK Construction News website, to read the original article, please click here.